Hook rushed to Bangkok on Monday to attend a meeting with the Department of National Parks, Wildlife, and Plants (DNP). The topic of the meeting was actually the issues facing an indigenous people living within a National Park in the Northern Thailand. However, as all many high level officials were present, it was the right space for Hook to let the voice of his people be heard. The DNP officials received Hook with an open mind and listened to his concern that the new village plan is not in accordance with the families who shall live in the houses.
Some families live up to 10 people under one roof and the current plan suggested an inside living space of 3×4 meters. This would include kitchen area and storage space as well as sleeping area. After spending an evening talking to the different families on the Surin islands, it became clear that the size of the planned houses is too small for most families. Also as the community is expanding, building even more houses in the same place as before would result in the houses being even more densely packed in the space. Worries among the community are high that another fire would result in the same devastation.
The DNP agreed to draft a new house plan, adding two meters in width, leaving the inside space at 5×4 meters. For all houses there is a front porch of 5×2 meters planned. The question of whether they could expand the village to the right side of the school was left to further discussion AFTER finishing the village.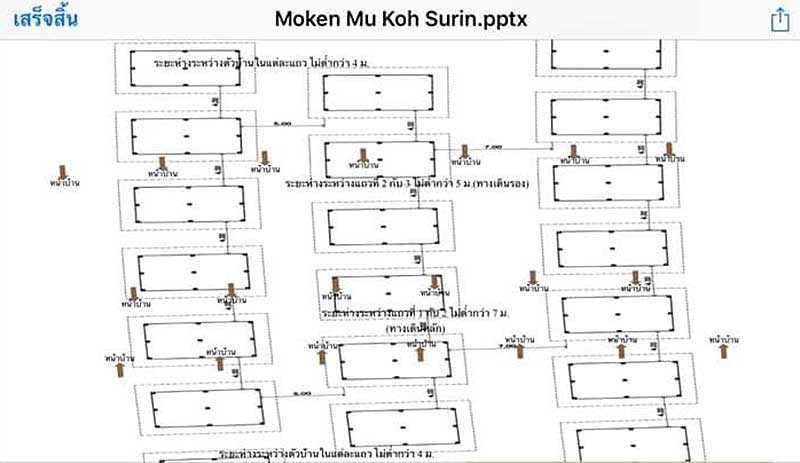 On Wednesday, Hook went back to the village to inform his people about the meeting in Bangkok. The new plan had already been sent to the Surin National Park and the space was divided into wider sections as before. Wood was delivered the day after and construction started immediately after all households gave their signature/fingerprint to the new plan.
The National Park and the villagers agree that finishing the village before monsoon is a priority. This gives them until the end of March. While the current plan is to rebuild in the same location, the National Park seems open to the possibility of expanding the village to the other end of the bay.
The Moken now face an uncertain relief process. We are facilitating a Moken-led fund to address the most urgent needs of the community and the long term recovery process.

Please donate

Media contacts please email [email protected] or call +66 81 944 1275