Moken Against Marine Debris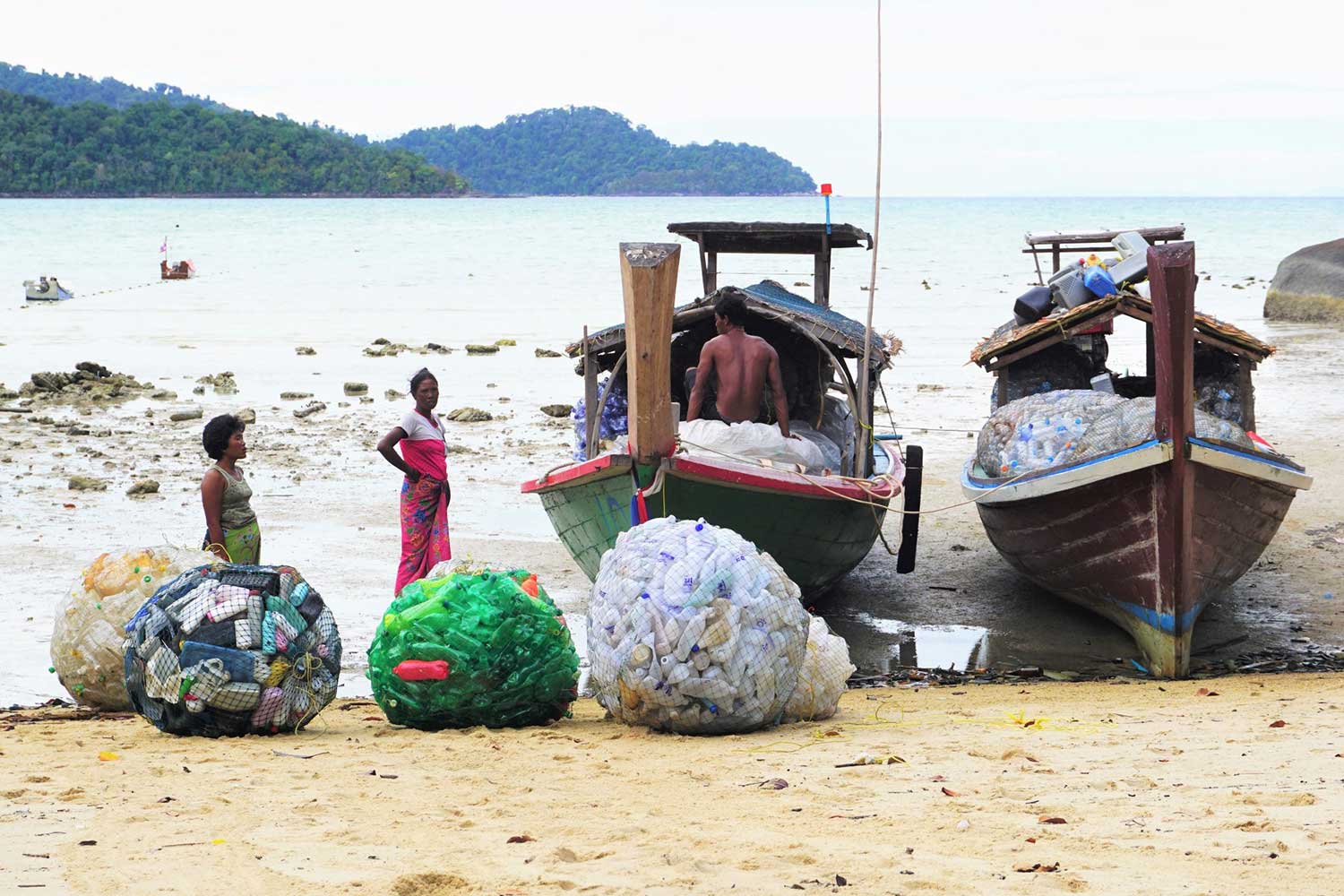 Moken-led beach restoration
In 2020, a group of Moken elders proposed an innovative project to connect conservation, cultural empowerment, and meaningful work for adults who are unemployed due to Covid. Their idea – to restore beaches of Koh Surin while teaching their children ancestral knowledge that might otherwise fade.
This project promotes environmental justice by removing harmful marine debris from the Moken's ancestral beaches; racial justice by empowering an indigenous group who often face discrimination towards autonomy; and socio-economic justice by providing income to community members deprived of their rights to harvest the sea.
An Ecological Crisis
Surin Islands Marine National Park is home to some of Thailand's healthiest and most biodiverse coral reefs. They are also a landing place for marine debris from Thailand, Myanmar, and India. Fierce monsoon waves leave tons of marine debris on the beaches, layer after layer, year after year. Exposed to the sun and salty spray, these plastics quickly break down and re-enter the marine ecosystem. Sea turtles often compete with garbage for nesting space on the beach. Whales, dolphins, and sharks are only the larger examples of all the species that would benefit from reduced marine debris and microplastics. On land, the hermit crabs on Surin are among the largest in the world. Discarded bottles are a particular hazard, as the crabs often become trapped inside and die.
Until the start of this project, there was no system in place to remove marine debris from the islands. This project recognizes the Moken as leaders in conserving their ancestral environment. The Moken have been living in this area long before marine debris started to wash up on their beaches and this grant will encourage the change from passive witnesses of pollution to active participants in conservation.
Part 1 – Saving the Beaches, Preventing Microplastics
A "restoration team" of six Moken will collect marine debris from the beaches 15 times per month. At least 6,000 kg of marine debris will be removed from the island, with plastics, metals, and styrofoam going into a sustainable recycling chain. In addition to restoring the beaches, this project will prevent marine debris from re-entering the ocean as microplastics.
Part 2 – Ancestral Wisdom Meets Modern Conservation
In order to inspire the next generation, a group of Moken elders and children will accompany the restoration team. Kids in the village today have very little opportunity to explore the islands, and have not seen the damage caused by marine debris. Along with helping clean the beaches, the children will learn from their elders about the unique ecology and history of each beach; including where to guard turtle nests from monitor lizards, medicinal plants to treat jellyfish stings, and ancient burial grounds.
Part 3 – Cultural and Economic Empowerment
3. This project will be the first self-organized long-term project by the Moken themselves (all previous assistance to the Moken has been conceived of and implemented by outside parties). Travel restrictions due to Covid-19 have left many Moken without jobs this season and unable to provide for their families. This project will provide much-needed income through environmental conservation, and by creating the infrastructure to gather and sell marine debris in the future.